Passion. Motivation. Intelligence.
Why have I chosen these three words? It is very simple: these three words characterize what I feel about tennis. They encompass my daily sentiments about the sport that I embraced for the first time in 1976 in my native Argentina.
Passion… the passion of being on a court every day, the passion I feel to teach tennis, the passion I feel when I see my students improve and smile, the passion I feel to learn, to study, to investigate… the passion to improve every day.
Motivation… I believe that God has given me a gift to motivate people and help them to feel that they can improve and enjoy the wonder of this great sport.
Intelligence… I am convinced that no one can play better tennis without learning how to think better. By nature, tennis is a game for the intelligent; those who are observant, creative and daring. My humble task is to guide my students towards a better understanding of the game. There is no doubt that they will enjoy it more with every new discovery. It is said that the true teachers are those who INSPIRE people.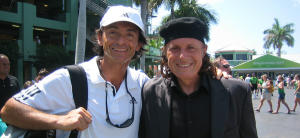 That being said, Guillermo Vilas was the inspiration for myself, so many other Argentines and others all over the world. So many of us picked up racquets in the 70's because of his inspiration and we have not wanted to put them down since. Guillermo embodied these three words that I have taken as my standard.
It is my hope that this from this website I may collaborate with my colleagues in different aspects of teaching tennis. In addition to this, my goal is to help train those who desire more knowledge about the different facets of our sport and to be able to provide data, tips, novelties and commentary that will appeal to real lovers of the game.
Special thanks to the people who have helped me and supported me without condition in my career as a tennis professional: My mother, my wife Bettina, my children, my sister Graciela, my friends and former students… all of whom have allowed me to share with them a very special place: a tennis court.
Passion, Motivation & Intelligence
Welcome!
Daniel Spatz